As Denver's leading hunger-relief organization, Metro Caring meets people's immediate need for food while also addressing the root causes of hunger and poverty. Using a multifaceted approach, Metro Caring is an innovative leader in addressing problems related to hunger, with programming offered in Healthy Foods Access, Nutrition/Gardening Education, Self-Sufficiency, and Community Health Services.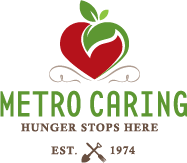 Our programs are designed to meet people's immediate need for nutritious food while also providing them with the education and tools to improve their health and overall food security. Click above to learn more.

Metro Caring relies on volunteers to implement its life-changing programming. Volunteers come from all backgrounds and help ensure that local families and individuals are treated with dignity and respect as they use the organization's services. Join our committed volunteer team today!
Great Divide Brewery - November

For the entire month of November, Great Divide Brewery will be donating 100% of the proceeds from every sample flight of three tasters in their tap rooms to a few non-profit organizations in the state. Metro Caring is one of those recipients! Sample pours are 3 oz. and run three for $3.